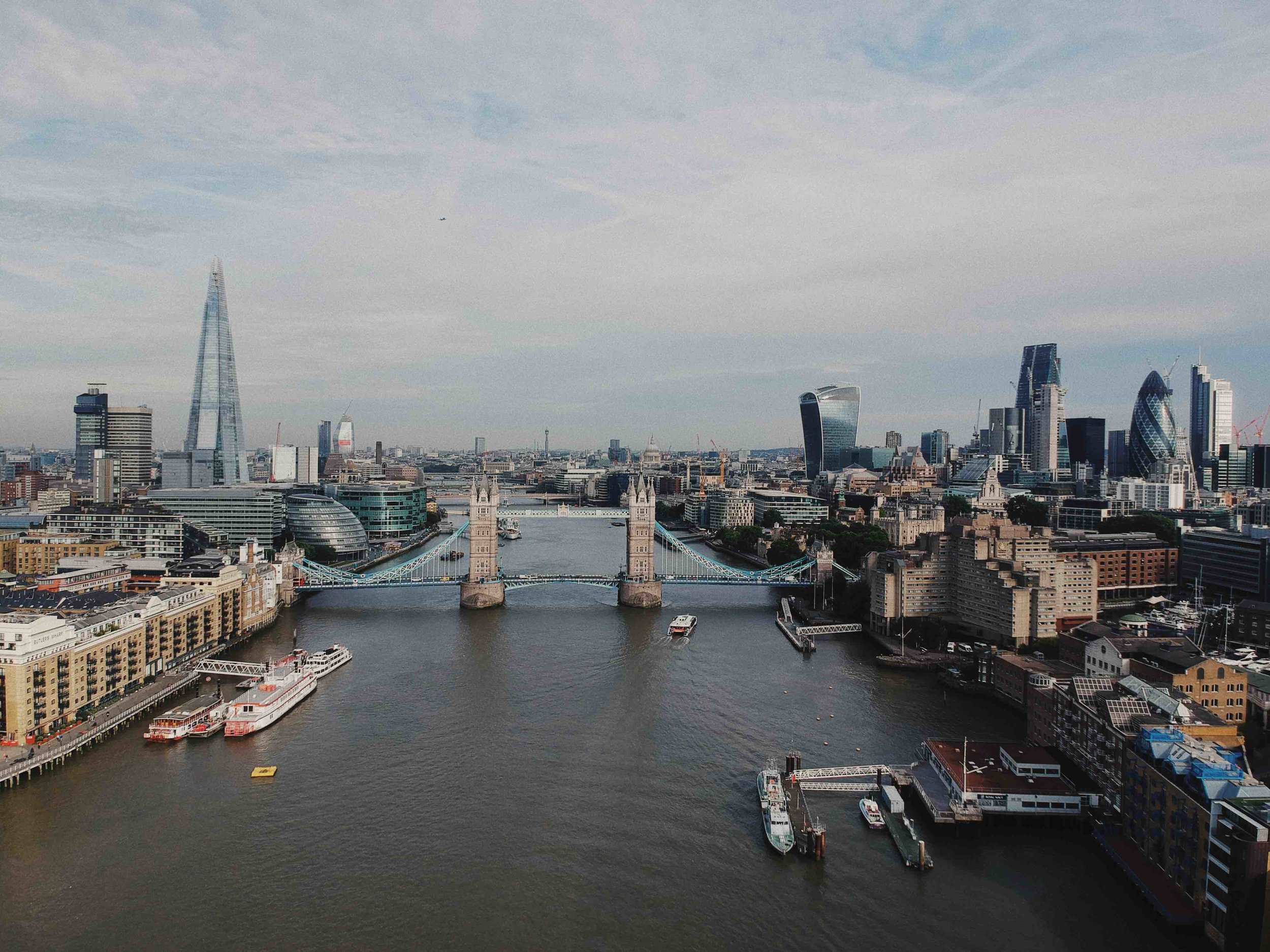 SKYLINE
The Skyline Project brings together 12 independent craft breweries from two of the world's great beer cities, encouraging a cultural exchange between them. London and New York are connected by their world-famous, instantly recognisable skylines, yet each city is home to a very different approach to craft beer culture.
Craft beer in America is more established and New York breweries specialise in big, bold and boozy examples and the culture around it promotes independence, accessibility and progression. The six beers brewed for the Skyline Project will exemplify the best of these beer cultures and the initiative hopes to promote further learning and innovation in brewing on both sides of the Atlantic.
Each of the breweries involved have strong sustainability programmes that lead to a responsible industry. To help play our part in this ethos, we are giving £1 per box to TREES FOR CITIES. They plant trees to help combat pollution in cities.
Each of the six New York breweries are paired with a London brewery to encourage new relationships and exchange of brewing knowledge.
THE SKYLINE BOX SETS ARE AVAILABLE FOR PRE-ORDER FROM BEER MERCHANTS
SKYLINE AT LCBF
We had an amazing time at London Craft Beer Festival 2019! All 12 breweries were pouring some special releases together. If you were one of the thousands who came through the door, we hope you had a superb time!
PRESSURE DROP:
Pressure Drop began life as three friends brewing in a garden shed. We now operate on a larger scale, but with the same focus on quality and innovation. We use the best ingredients to make the kind of beers we, as beer lovers, want to drink.
We have steadily grown to our current scale where we are capable of producing 8-10,000 litres of beer a week. We remain an independent business and employ a small team of people to help us brew, bottle and keg all our beers in-house at our Tottenham brewery.
Our brewery features a large coldstore where our beers are kept for maximum freshness. We strive to maintain our reputation for quality and innovation. We produce an inclusive range of modern beers.
BRICK BREWERY:
Brick Brewery started life in the shed of founder, Ian Stewart's garden in Peckham, South East London. Eventually growing to a production brewery under Peckham Rye station in 2013 where our Taproom continues our legacy. We are a family owned, award winning, independent brewery based in SE London and are passionate about producing consistent and great quality beer to challenge the perception of the beer enthusiast and everyday beer drinker. Brick's beers are inspired by the many travels of the ever-growing team and the creative and cultural surroundings of South East London.
HACKNEY:
Founded in 2011 by Peter Hills and Jon Swain we're based in a couple of railway arches in Hackney. Our current brew house was installed in 2016 and is a bespoke build designed by Jon, Pete and our Head Brewer, Darren. We currently have ten 2500 litre fermenting vessels with temperature and pressure control enabling perfect management of the fermenting process. 2016 also saw the installation of laboratory facilities. Every batch or beer is tested for alcohol content, bitterness and carbonation levels ensuring consistency and quality across our range.
BREW BY NUMBERS:
Brew By Numbers has now released over 350 different beers across an expansive range of styles. We are best-known for our diversity: hoppy, modern saisons; mixed fermentation farmhouse ales; hazy, vibrant dark coffee beers, nitro stouts, highly-hopped pale ales & IPAs. Our beers are frequently described as bold, balanced and drinkable, regardless of style or strength. Thanks to the hard work of everyone across the company, Brew By Numbers has been ranked as one of the Top 100 Breweries in The World by RateBeer.
WILDCARD:
Wild Card Brewery was founded in 2012 at the Ravenswood Industrial Estate Walthamstow. We brewed Mon-Fri and come the weekend, we would open the brewery doors and serve up our beers. With support from the local community our shed became one of Walthamstow's best loved bars, hosting beer festivals, tap takeovers and live music.
In 2018 the brewery moved over to Lockwood Way, where we have doubled capacity - which means lots of Wild Card beer for all. Wild Card Brewery now has two tap rooms in Walthamstow, and our beer is available in pubs, bars, restaurants and supermarkets across the UK.
GIPSY HILL:
Nestled at the base of Gipsy Hill, in South London, we brew full flavoured, moreish brews of the highest standard. Every decision we make is led by improving quality, pushing innovation and engaging with our community. Our team are the heart, soul and blood of our brewery. Everyone brings their own personality and creativity to everything they do. Our labels are our story, our team are the characters. Scroll through and get to know them.
At Gipsy Hill we've refocused our vision to focus on three core principles: 1) Quality, 2) Innovation, 3) Community. Everything we do here bears those three elements in mind in the purest way we can. We're going to be collaborating with interesting and different partners who will help us emphasis these goals.
BARRIER:
Barrier Brewing Co. is located along the south shore of Long Island in beautiful Oceanside, NY. Our first batches started rolling out to the public in June of 2010. The first year of production yielded more than 700bbls of beer using our 1-barrel system. In 2012, the brewery was relocated to a larger space and upgraded to a 5-barrel brewhouse, with 1500bbl of initial capacity
The new brewery operated only a few short months before being severely damaged by Hurricane Sandy. After several months of rebuilding, along with some tremendous support from fellow brewers and the local beer community, Barrier reopened in February 2013, and the fermentors have been bubbling away ever since.
In 2017, Barrier upgraded its brewhouse to a 20bbl 3 vessel system capable of brewing upwards of 15,000bbl/yr.
KINGS COUNTY BREWERS COLLECTIVE:
We are a trio of experienced brewers who have joined forces to bring our shared vision of quality, variety and community to craft beer drinkers throughout New York City and beyond. We love working together, we love drinking together, and we're super-duper excited to bring our fresh & flavorful beers to life here in Brooklyn.
After several years of honing our brewing skills in tiny apartments, at the American Brewers Guild in Vermont, and professionally at breweries across the city, we all independently came to the same conclusion: wouldn't it be FRICKIN' AWESOME to open a new brewery in NYC? Flash forward in time, and after various trials and tribulations (and many long drinking sessions together), we realized that if we combined our efforts, we could build a bigger, better, more badass brewery than if we each tried to do it alone. And thus: Kings County Brewers Collective (KCBC) was officially born.
EVIL TWIN:
Evil Twin Brewing was started up "nomadically" in 2010 by Jeppe Jarnit- Bjergso. In 2012, Jeppe and his family decided to make New York City their home and join the burgeoning local beer scene. In 2016, Jeppe was approached with the opportunity to finally root his ideas & dreams and Evil Twin Brewing NYC was born.
At Evil Twin Brewing NYC we wanted to expand upon the traditions of innovation & further it with the intimacy of a local neighborhood microbrewery. With more control over our recipes, we are able to experiment on new flavors while perfecting the classics.
Our Queens brewery has been a long time coming & we are thrilled to have a home where our families, friends, and neighbors have a place to share our love for great beer, food & culture with the Ridgewood community, NYC, & the world!
FINBACK:
Founded in 2011, Finback Brewery is born from a passion for brewing and experimentation. After a long search combing through back streets, along canals, under bridges and industrial no-mans lands, braving collapsing roofs and cardboard box jungles the brewery found a space in Queens in 2013. Armed with a 20 barrel brewhouse, Finback released its first beers brewed in Queens in January 2014. The brewery is proud to call Queens home and become a part of the diverse and rich culture of the borough. We're excited to be one of NYC's newest breweries and to make NYC culture even better.
Currently, we self distribute all our beers to the greater NYC area in draft format only. So, go to your local bars and let them know you want some Finback!
FIFTH HAMMER:
Fifth Hammer Brewing Company is a 15-barrel brewery located in the heart of Long Island City, New York. Our large taproom is open 7 days/week — come visit!
Fifth Hammer is a Pythagorus reference. In addition to math and stuff, Pythagorus appreciated harmony, balance and equanimity in all things. Story goes, he was walking through town one day. As he passed a blacksmith's, he heard five hammers a'hammerin. Four were in sync with one another, on key, on rhythm. One hammer, though, was going to it's own beat, was incongruous with the others. This Fifth Hammer was an individual, and that's cool.
INTERBORO - SPIRITS AND ALES:
Interboro Spirits and Ales is Brooklyn's only craft brewery and distillery.
Our goal is to engage, inspire, and bring people together with our distinctive, flavor-forward beers and spirits!

From session beers to barrel-strength whiskeys, we'll show what can be done with three basic ingredients: grain, yeast and water.
Our kitchen creates on food to order to pair with beers and cocktails.
PRESSURE DROP x BARRIER:
I'm Walking Here - 8.5% NEDIPA
BREW BY NUMBERS x FINBACK:
18| Farmhouse - 4.8% DDH East Coast Pale Ale
HACKNEY x EVIL TWIN:
NIGHTOWLS - 14.0% Imperial Coffee Stout
WILD CARD x FIFTH HAMMER:
4.2% Apricot and Blackcurrant Smoothie Pale
GIPSY HILL x INTERBORO:
Bodega - 5.8% East Coast v West Coast IPA
BRICK x KCBC:
Boysen was the Cure - 7.1% Imperial Sour
THE ORIGINS OF SKYLINE
Jon spoke with Tim from the Brewers Journal and discussed the story behind the project.
KEEP UP TO DATE WITH SKYLINE:
REGISTER YOUR INTEREST IN THE PROJECT